Toyama Prefecture
International Hokuriku Kogei Summit Kogei Hackathon(2017)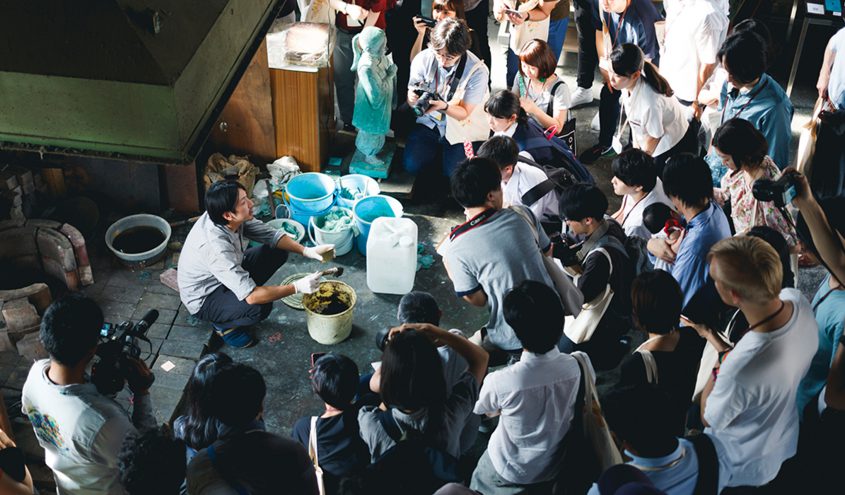 Art x Traditional Industry x Advanced Technology A unique hackathon that proposes ideas for the "Future of Crafts"!
The global capitalist economy, changes in lifestyle, shortage of successors etc. has made it difficult for the Japanese crafts industry. How can we connect crafts to future industries and cultures, and not just "preserve" it as handicrafts? In order to find the answer to this question, in autumn 2017, as a part of the "International Hokuriku Kogei Summit", craftsmen of traditional industries, engineers, researchers, artists, and other experts formed teams and organized the "Kogei Hackathon" to present ideas for the future of crafts.
Background
Takaoka City, Toyama, where our head office is located, is the central city of Western Toyama prefecture with a population of about 170,000.
The city was established by Toshinaga Maeda, who was the second generation of the head of Kaga Domein about 400 years ago.

When Toshinaga created the Takaoka town by the castle, it started with traditional industries like Takaoka copperware, lacquerware etc, and now it is a place where new industries like aluminum are thriving. This city represents the coastline of Japan as the "manufacturing city".

However, like other craft industries, the traditional industries in Takaoka are facing a crisis due to the lack of successors and lifestyle changes. Thus, various new challenges are being initiated by young craftsmen who are working with designers to develop new products and conduct factory tours for factories that were private.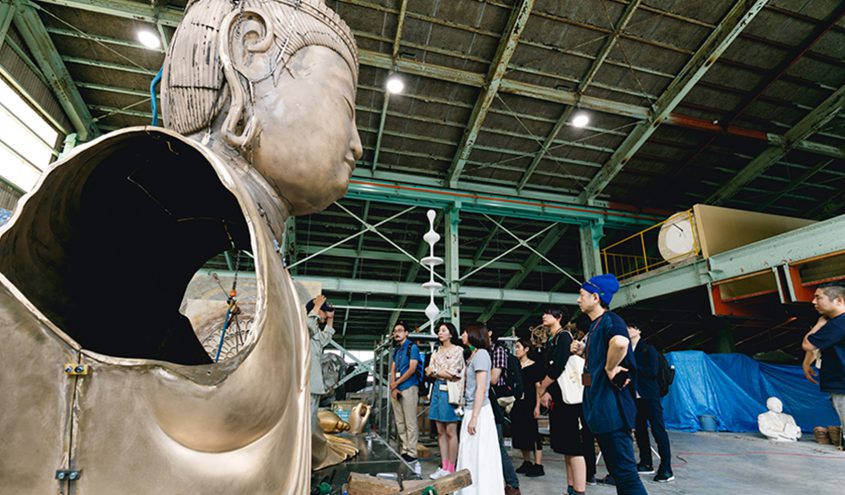 What is the difference between "handicrafts" and industrial products? Are there techniques that should be passed on and some that don't need to be? We do not know the answer to the question but our hearts were moved by the passion and high technical skills of the craftsmen in Takaoka. We would like to continue to live with such "things" and not lose it. We thought about what we could do for these struggling craftsmen who only want to continue to "pass on the expertise from the previous generation to the future".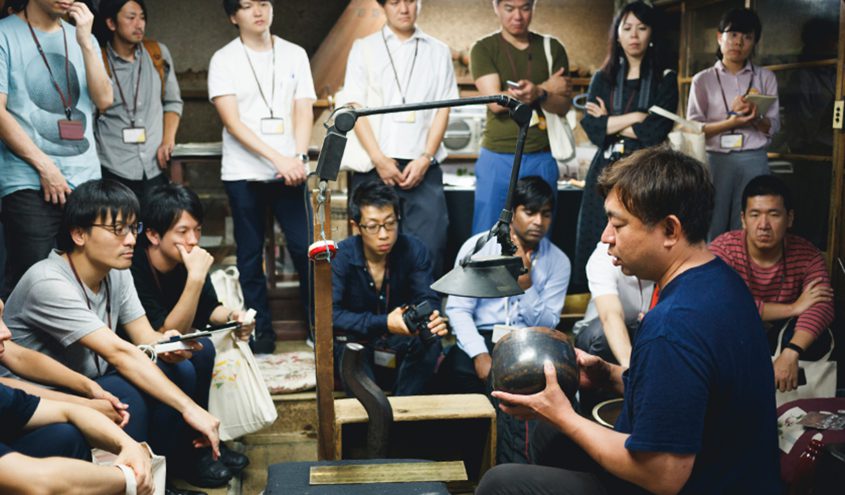 Therefore, we thought to create an opportunity for crafts to work with various types of fields, especially advanced technology, and find a way to connect it with the future. Rather than matching specific craftsmen to engineers, we thought our expectations would be exceeded further through a "hackathon*". We hoped it would create sort of a "chemical reaction" and it is a great opportunity to advertise the traditional industries in Takaoka. We established a participation-style type of event called "Kogei Hackathon".

We hoped that the output of this event would not just be a "product" but also various things such as "art, service, system, or applications". Of course, we wanted to revolutionize Takaoka's traditional industries but through two fields that Japan specializes in, handicrafts and technology, we hoped for a new Japanese innovation.
*What is hackathon?
Hackathon comes from two words, "hacking" and "marathon". Generally speaking, a hackathon is where software developers collaborate to create new programs or services in a short period of time and compete with others for their skills and ideas. The "Like" button on Facebook and "Chat" and "Timeline" in social networking services were ideas developed during hackathon so it is a fantastic way to have new ideas come to life.
Details of the implementation
In order to spread the fascination of Hokuriku crafts to the world, the "International Hokuriku Kogei Summit" was held (core period: November 16th to 23rd, 2017). Only a maximum of 30 people could join but 142 people registered, and in the end, 37 joined. The first half started with a tour of the traditional industries in Takaoka City, followed by discussions to propose new ideas, and team building activities. In total, seven teams were formed.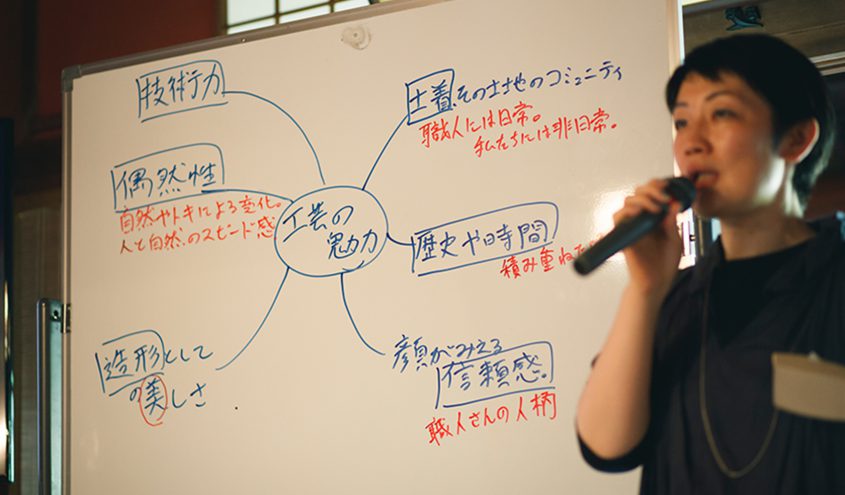 Although hackathon usually ends rather quickly, around 2 to 3 days, in order to have ample time to make the traditional crafts, teams communicated often online and offline, gathered ideas, and created prototypes before the presentation day. As a part of the administration team, We observed the exchanges of various teams, formed with individuals from various backgrounds like AI, AR, VR, robotics, and new material researchers, but everyone was interested in traditional crafts and strongly contributing to its continued success.

Also, the local craftsmen were extremely stimulated to speak in an almost different language of the team members. There were exchanges between creative directors, designers, and artists and it was surprising to see the team's idea getting more thoughtful and thorough, while sometimes getting lost along the process.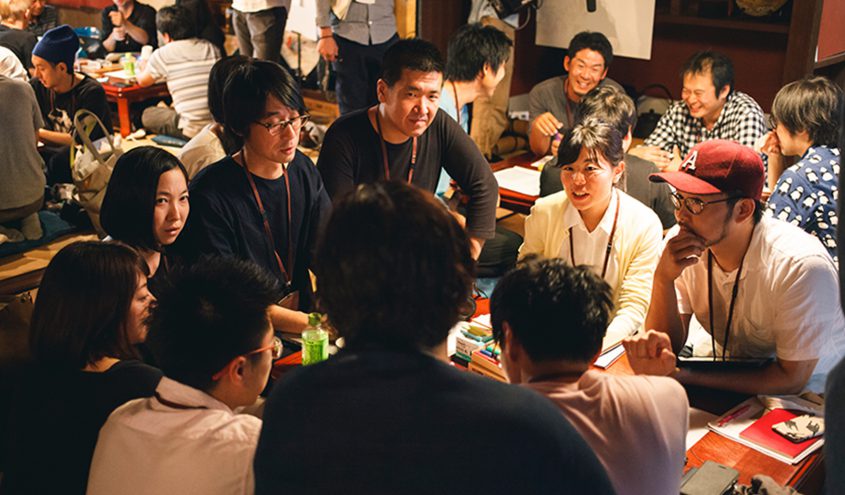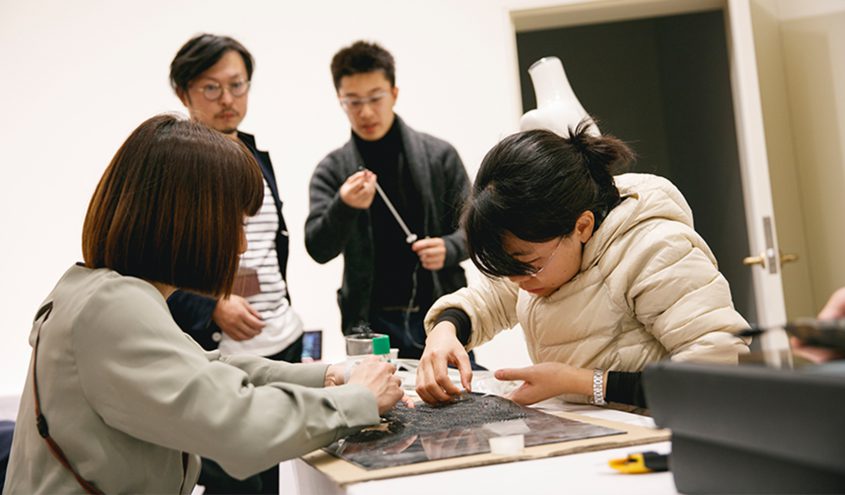 In the latter half, everyone gathered again in Takaoka, finished the product, made presentations, and awards were given out to the best teams.

All the products created in the "Kogei Hackathon" were very exciting ideas such as IOT products, collaboration with AI and craftsmen, utilization of technology to inherit traditional techniques, and art installations that used traditional crafts. All these teams will continue activities, but in order to further develop the seed that they planted, we are looking for people and businesses to invest in this project!
Event Summary
Dates

Day 1/Day2: September 23rd & 24th, 2017
Day 3/Day 4: November 18th & 19th, 2017

Location

Takaoka City, Toyama Prefecture

Capacity

30 people

Eligible participants

Craftsmen and experts in Toyama Prefecture as well as other Japanese artists (art, music, photography, film, dance etc.), engineers, programmers, scientists/researchers (AI, information technology, robots, new materials etc.)

Entry fee

Free

Application method

Open to the public

Awards and benefits

First prize (1 group) 300,000 yen
Special prize (1 group) 100,000 yen
2 touring exhibits: Takaoka City, Toyama City, Uozu City (January to February 2018)
Sponsor

Toyama Prefecture

Co-organizers

Takaoka City

Cooperation

Toyama Design Center, Takaoka Design and Craft Center, Takaoka City Craft Market Street Execution Committee, Takaoka Copper Industry Cooperative Association

Judges

Motoi Ishibashi (Engineer/artist, Director of Rhizomatics), Chiaki Hayashi (Co-founder of Loftwork, Representative Director), Seiichi Hishikawa (Film writer/photographer/director, professor at Musashino Art University), Akiyoshi Takagawa (Head of Takaoka design and craft center), Masaki Takahashi (Mayor of Takaoka City), Ryozo Takeyama (Dean of Toyama University of Arts and Culture)

Advisor

Ryuta Aoki, President and Representative Director of Vorosity Corporation
Results
Participants

37 people (142 people registered)
Craftsmen from Toyama Prefecture, and experts, artists (art, music, photography, film, dance etc.), engineers, programmers, scientists/researchers (AI, information technology, robots, new materials etc.) from inside and outside Japan

Developed projects

1."Material Instrument"
Focusing on the "material" metal and created a new percussion instrument.
2."9+1 (nine plus one)"
Combined crafts and advanced technology (="Craftech") to produce artwork based on Japan's aesthetic sense.
3."Inheritance of traditional techniques"
Creation of a traditional technique succession system based on video analysis.
4."Re-Kogei"
A never-have-been-seen experiment that produces crafts while collaborating with AI,as "A neighbor that gives back unexpected answers."
5."Creation lab Takaoka"
Traditional crafts x IoT. Developed a new system called "e-Orin(Buddhist bell)" to deliver your feelings to important people.
6."Metal Research Lab"
Exploring new expressions for computer technology to intervene with metals and creators.
7."Tonton Toyama"
Developed a hands-on style product and service manufacturing process.

*Each team has continued working on these activities and the projects will continue in 2018 as well! For details, refer to "Kogei Hackathon 2018".

Media exposure

101 cases, publicity amount approximately 17.2 million yen