Toyama Prefecture
Toyama Design Trial [Design Human Resource Matching Program Collaborated with Universities] (2016 – ongoing)
Efforts for developing and securing human resources interfacing design students and manufacturing companies in Toyama.
"Toyama Design Trial [Design Human Resource Matching Program Collaborated with Universities]", organized by Toyama Design Center, has held workshops in collaboration with traditional craft and manufacturing companies across Toyama prefecture and also design universities in and out the prefecture to collect ideas and opinions of the students for product development. The workshops aim to offer students learning opportunities for their career formation and to convey to them the appeal of manufacturing companies in Toyama and of the entire Toyama, in order to secure human resources. Our company is supporting the planning and management of this program.


Background
Toyama prefecture has business resources of both traditional craft and advanced technology, each of them manufactures their own products through innovative challenges to hand the business on to the next generation.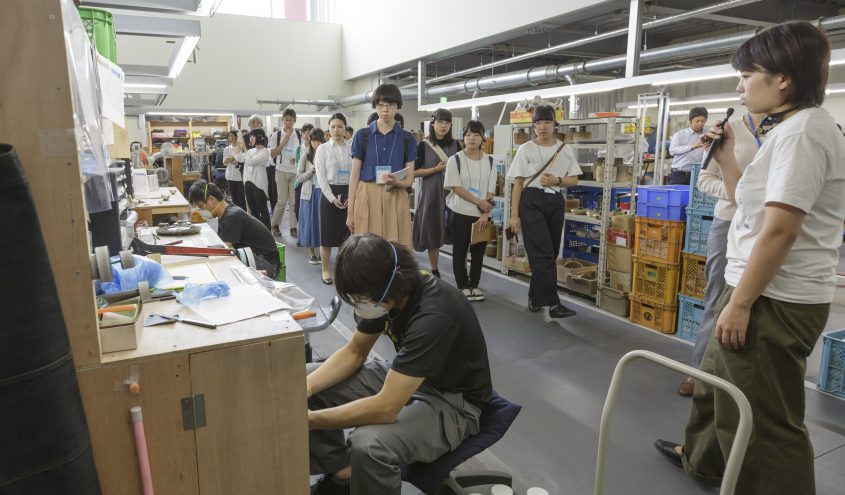 Under such a climate, Toyama Design Center has been implementing "Toyama Design Wave" (since 1990) as a design movement delivered from Toyama as their main activity as well as performing various activities for supporting the manufacturing companies in Toyama to promote product development suited for modern life in cooperation with designers.

During the efforts, it has been revealed that an increasing number of companies are recognizing the importance of design and that the companies actually achieving results have design human resources in-house, acting as the contact with outside designers. However, students want to join major companies or work freelance, and therefore it is difficult for small- and medium-sized companies in particular to recruit design human resources.

Under these circumstances, this program has launched since 2016 to secure human resources in companies in Toyama, including through UIJ-turn employment of design students, by strengthening cooperation among industry, universities, and government (i.e., companies in Toyama, universities, Toyama Design Center).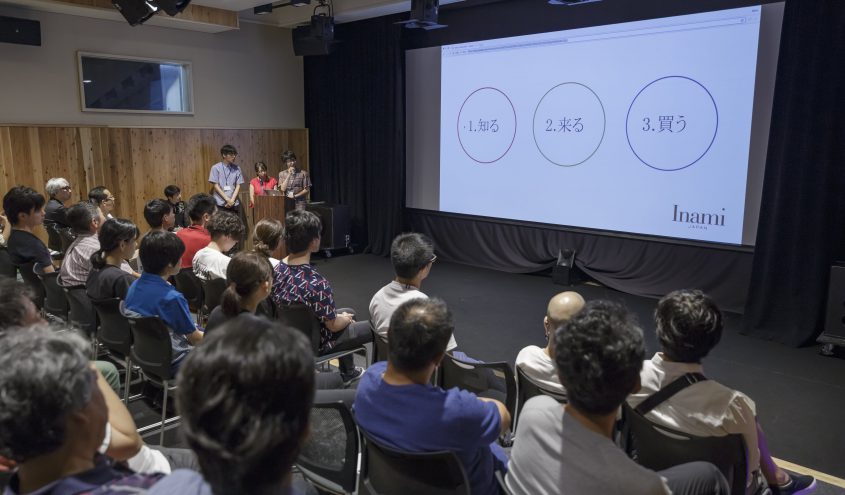 We have been involved in the support of planning since the launch of the program and engaged in management of meetings and workshops, together with Toyama Design Center.


Details of the implementation【2016】
1. Networking with Teachers of Japanese Design Universities

In 2016, the first year of the program, we held meetings in Tokyo and Toyama and visited companies across Toyama to develop a network with teachers in Japanese design universities. At the meetings, we discussed issues and measures in supporting development and career formation of design human resources.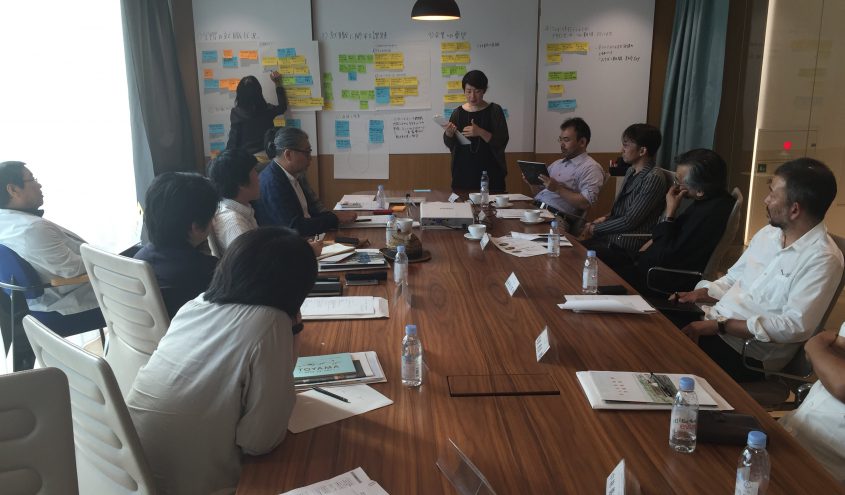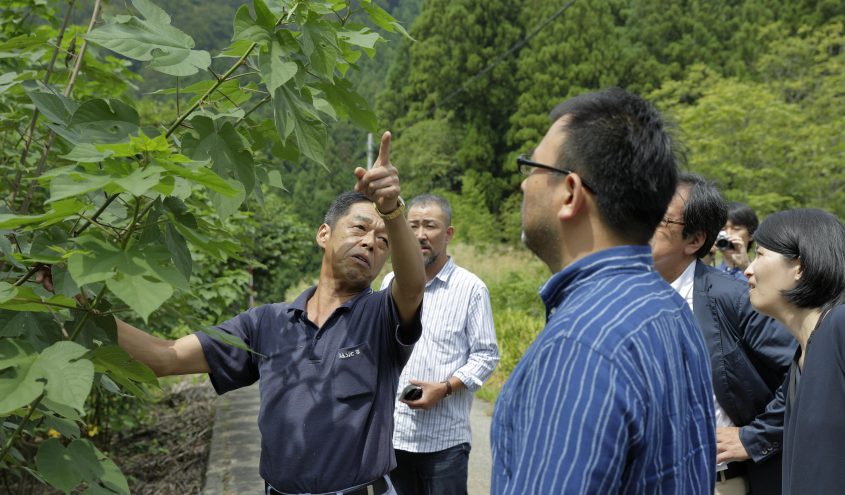 2. The Faculty of Art and Design, University of Toyama x Sukeno Co., Ltd.

We also conducted a workshop in collaboration with the leg wear manufacturer, Sukeno Co., Ltd., and the Faculty of Art and Design, University of Toyama, to create socks for gifts supposed to be brought to market as Sukeno's product. In the workshop, the students made design proposals with advice from Sukeno's designers and planners and prototyped them by the knitting machine in Sukeno Takaoka Main Office. They also created commercial videos envisioning how to sell and specific target.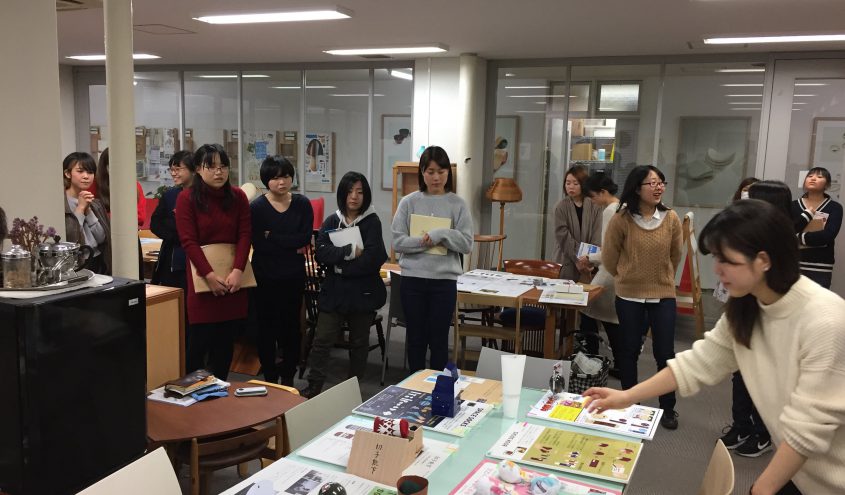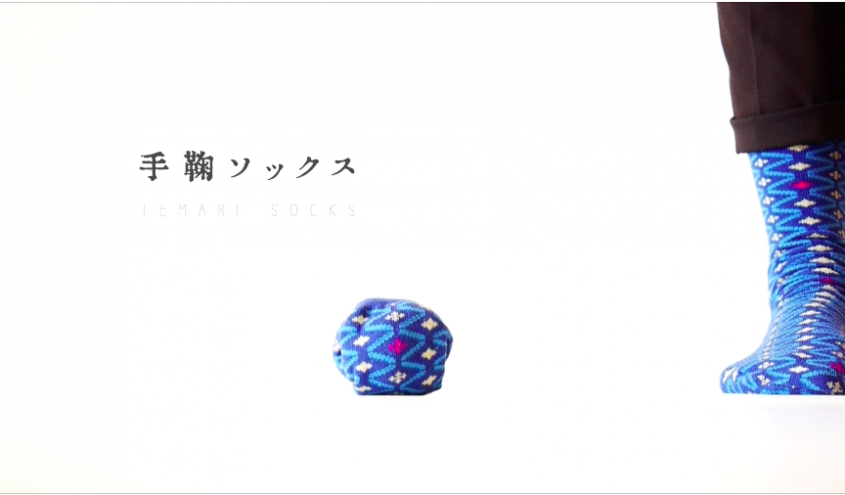 Details of the implementation【2017】
In 2017, we collaborated with three universities based on the opinions and ideas given at last year's meetings with teachers.

1. The College of Art and Design, Musashino Art University x Takaoka Copperware Companies

In the collaboration with the College of Art and Design, Musashino Art University, brass casting products were created with the support by Takaoka Copperware Industry.

This class was aimed at deepen students' understanding of traditional craftworks through communication with craftspeople and broaden their perspectives in career development. It offered valuable opportunity for the university and the students to face the material of "metal" that they usually don't have the chance to handle and complete a prototype, not ended only with design and mock-up proposals.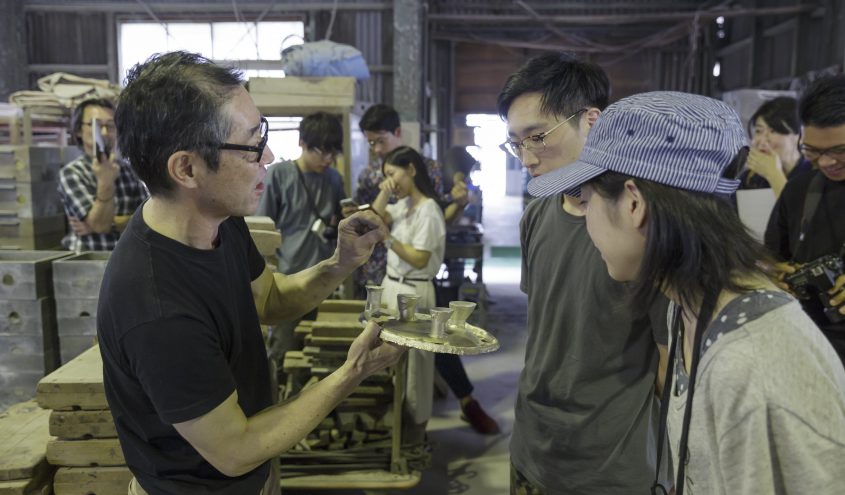 The workshop started from concept and design planning at the classroom lecture. Then, after visiting companies in Takaoka City, the students created copperware at the studio adjacent to the Toyama Design Center. With the support by local craftspeople, the students experienced sand-casting and surface processing, such as grinding and coloring, based on narrowed-down ideas.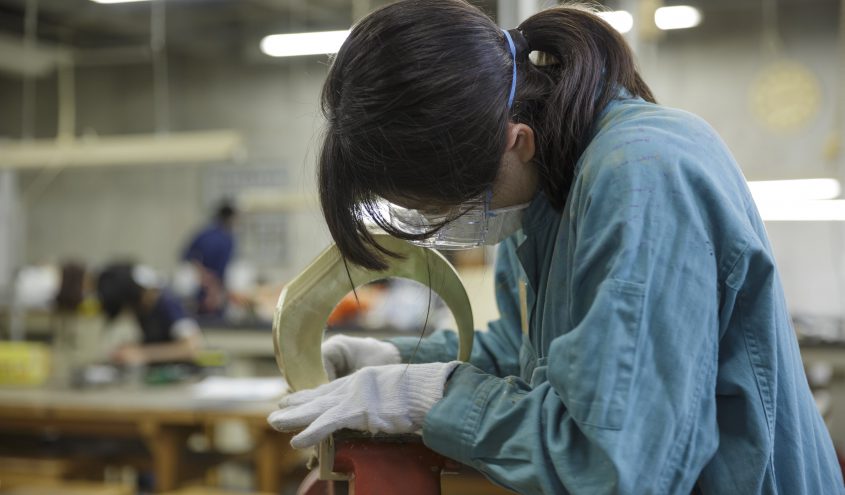 2. The Faculty of Art and Design, University of Toyama x Yamada Photo Process Co., Ltd.

In the workshop held in collaboration with the Faculty of Art and Design, University of Toyama, we worked with Yamada Photo Process Co., Ltd., highly admired for high-quality art printing in Japan.

With direct guidance from the company and professional designers, the students made design proposals on wrapping paper supposed to be used in the museum shop of Toyama Prefectural Museum of Art and Design, under the theme of "wrapping Toyama", and actually printed five of them.

In addition, the five types of wrapping paper were exhibited in the museum shop of Toyama Prefectural Museum of Art and Design, and a contest and workshops were held to set an opportunity in which the students directly hear voices of end users. The students showed creativity on the exhibition by adding values to the wrapping paper, such as objects and background stories, instead of merely displaying wrapping paper.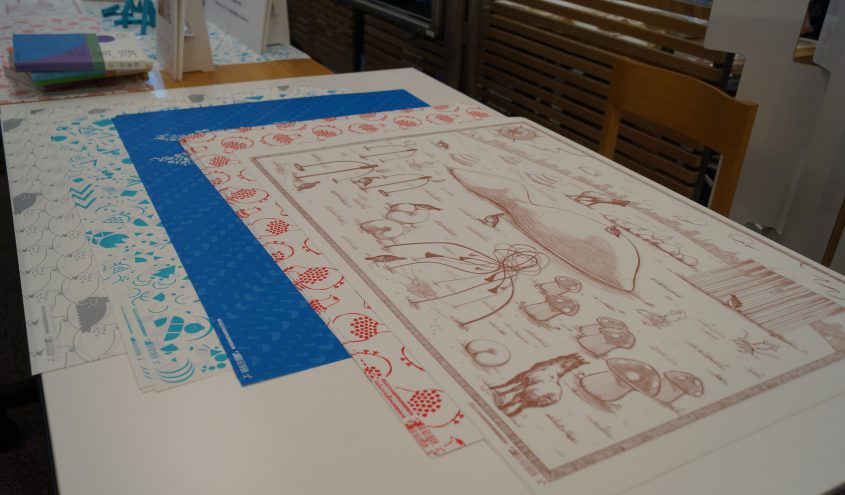 3.Nagaoka Institute of Design Visit Tour to Companies in Toyama

In the collaboration with Nagaoka Institute of Design, we organized visit tours to companies across Toyama, because a number of the students from Toyama, accounting for 10% of total students, wish to get a job in Toyama ("U-turn" job).
The visits aimed to promote matching between companies in Toyama and design students through the opportunities where the students hear about details of work and see the atmosphere of workplace in each company.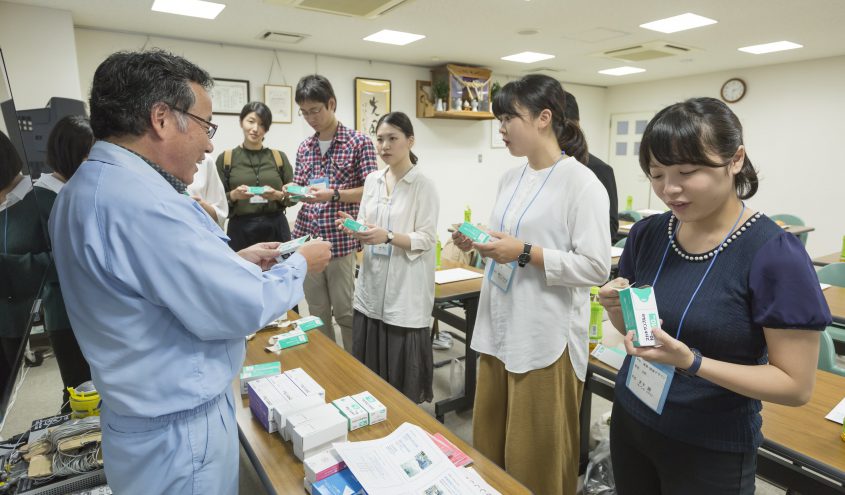 In addition, to distribute to the students who wish to find a job in Toyama, we prepared a booklet summarizing the content of these bus tours.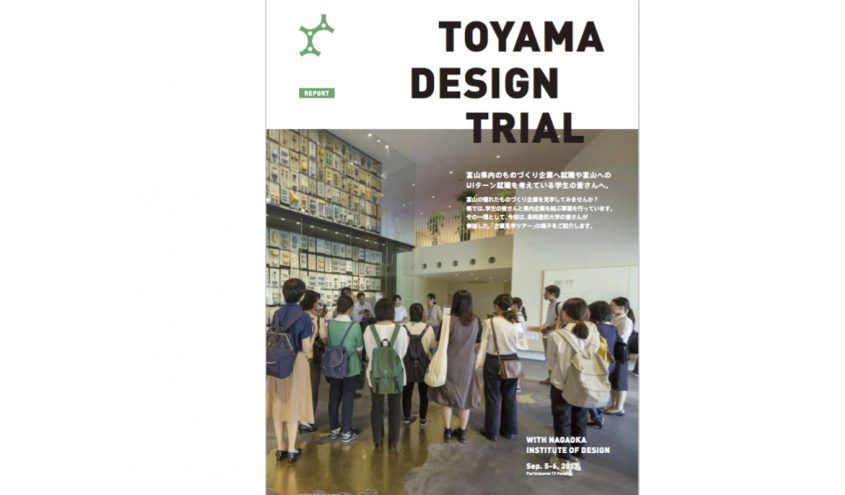 4. Presentation of results in Tokyo
In 2017, we held a meeting for presentation of results and a symposium about the new scheme on human resource development by cooperation among industry, universities, and government. It was opened to the public at Musashino Art University Design Lounge in Akasaka, Tokyo.

At the meeting, efforts of Toyama Design Center were introduced and some examples of cooperation among industry, universities, and government were presented by the staff of each university.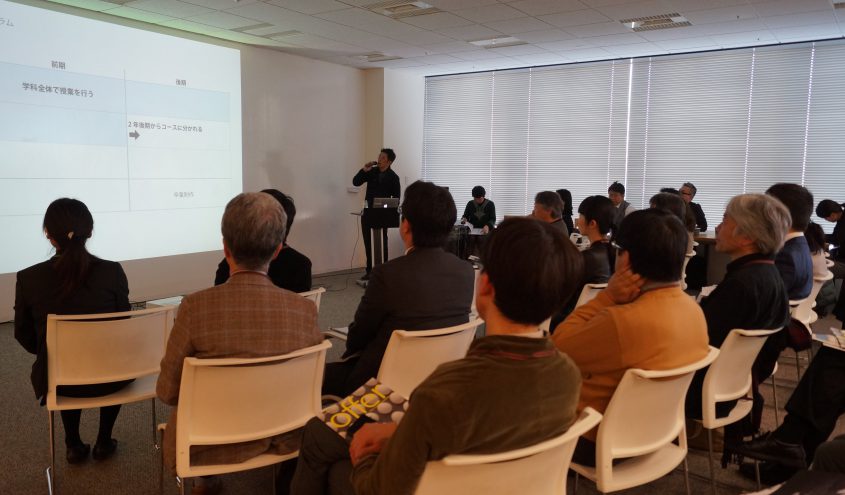 The symposium talked about "human resources sought by companies and the current state of human resource development in university" with teachers of each university, the director of Toyama Design Center, and people from Japan Institute of Design Promotion as lecturers, and many comments were given from the audience.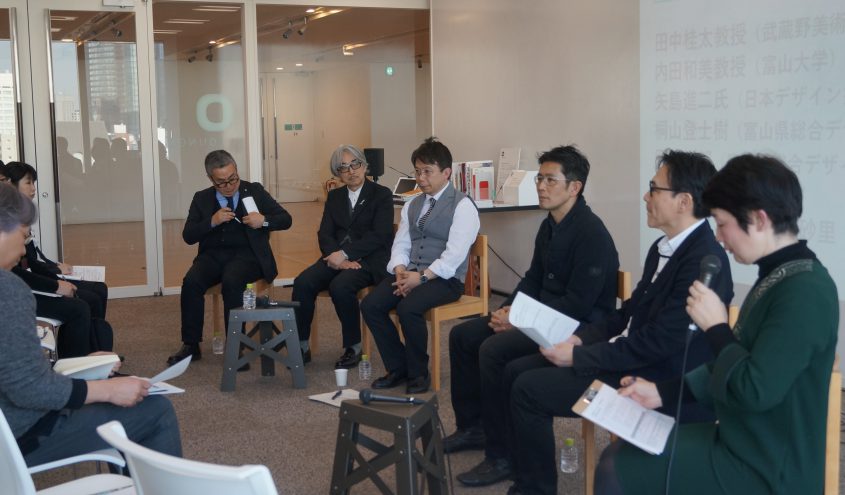 Details of the implementation【2018】
In 2018, the third year of the program, we collaborated with four universities.

1. Kanazawa College of Art x Win-D Corporation
In the collaboration with Kanazawa College of Art, students learning metal-casting tried manufacturing using digital technology.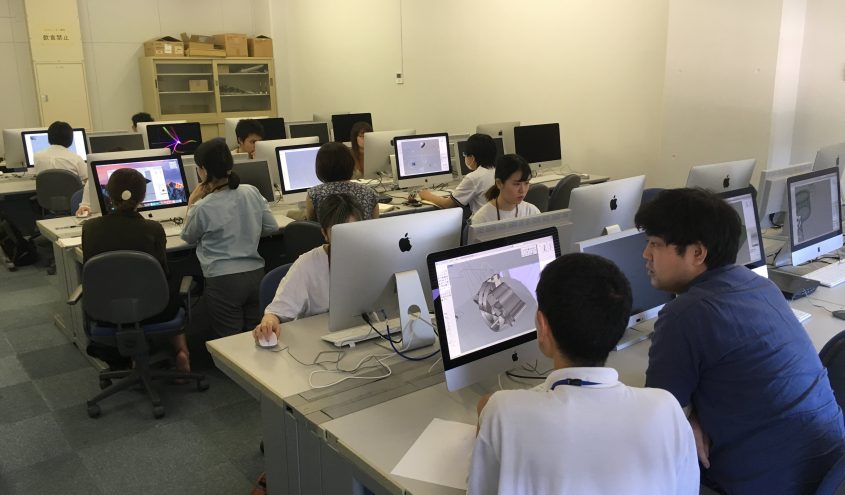 The students practiced creation of 2D and 3D drawing with the support of the staff of Toyama Design Center as lecturer. Then each student chose one of the drawings he/she created, and a prototype was manufactured at Win-D Corporation, specialized in manufacturing mock-up in Toyama.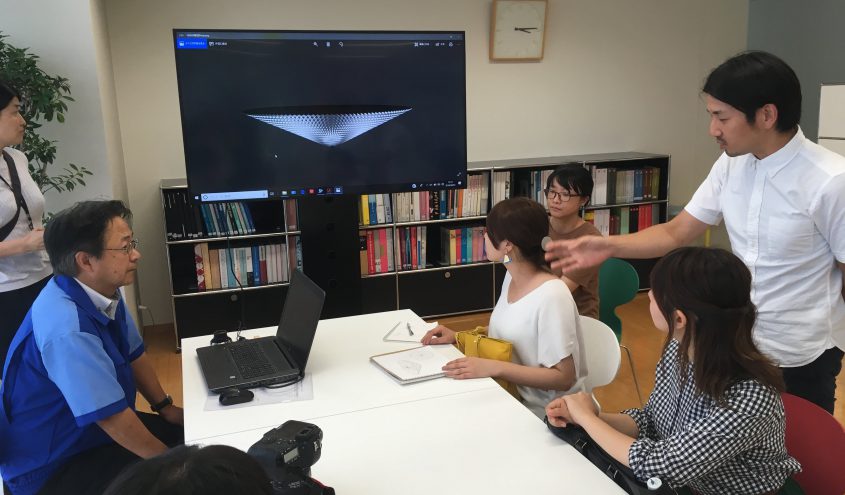 In the workshop, visit tours to three manufacturing companies were conducted, aiming for making the students become interested in Toyama and manufacturing in Toyama as their future stage.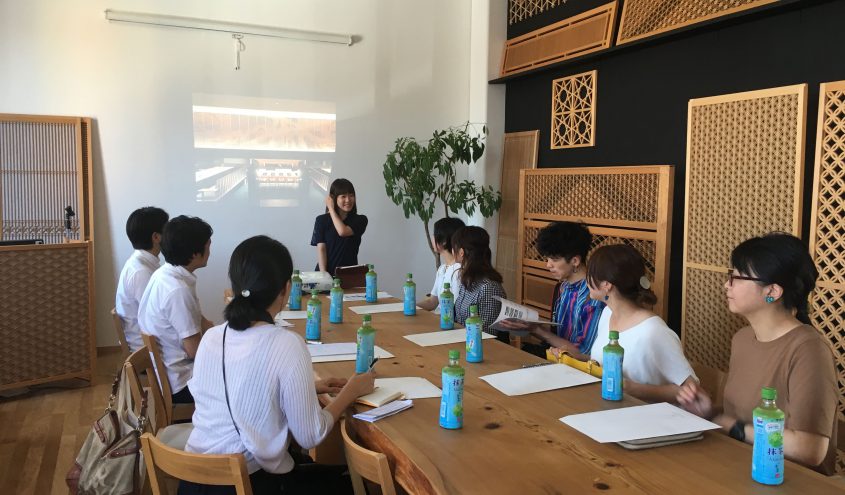 2. Kyoto Institute of Technology x Inami Wood Carving Cooperative

The collaboration with Kyoto Institute of Technology aimed at giving an opportunity to students and craftspeople to address together issues of traditional craftwork industry, under the theme of "deepening of craftwork".

The traditional craftwork is "Inami wood carving", originated from the middle of Edo era and has been inherited in Nanto City, Toyama.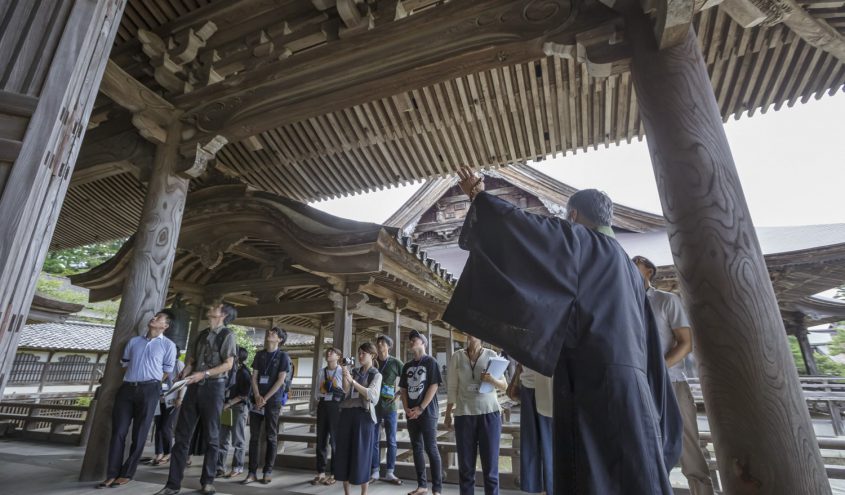 After the time of site visit, carving experience, and discussion with the members of Inami Wood Carving Cooperative, the students picked up three tasks of "branding of Inami wood carving", "exhibition plan in Inami Wood Carving Composite Hall", and "products of Inami wood carving" and worked on the proposals in several teams.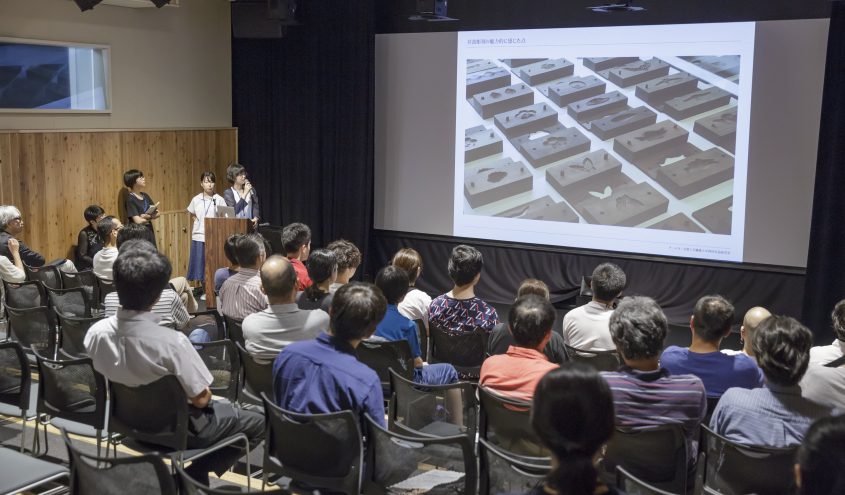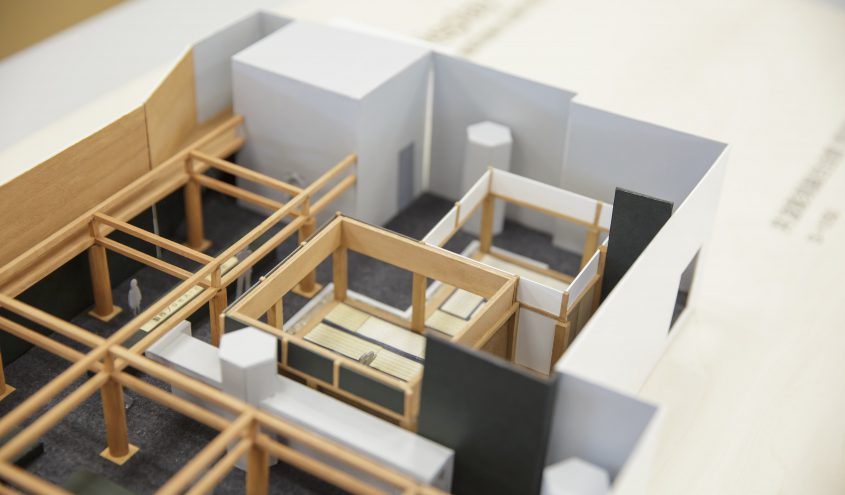 3. The Faculty of Art and Design, University of Toyama x Sukeno Co., Ltd.

In the collaboration with the Faculty of Art and Design, University of Toyama, we held a workshop with Sukeno Co., Ltd. for the second time since 2016.

The students made design proposals for Sukeno's popular product "Plus-ONE" (socks for gifts). Then they picked up and brushed up eight ideas in several teams and prototyped them.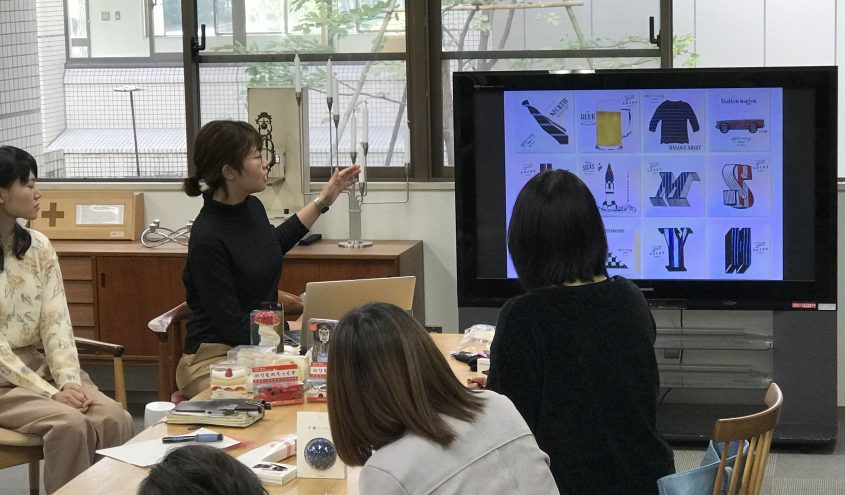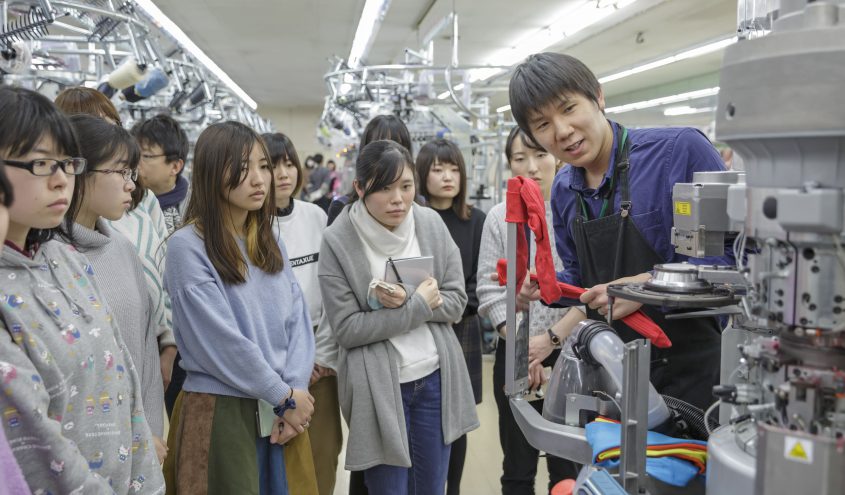 In this workshop, the range of proposals was not limited to the design concept, color, and shape, but extended to the package design, specific target, and selling space. Therefore, the students created the prototype of socks and 30 seconds commercial video, and also prototyped the package of socks this time.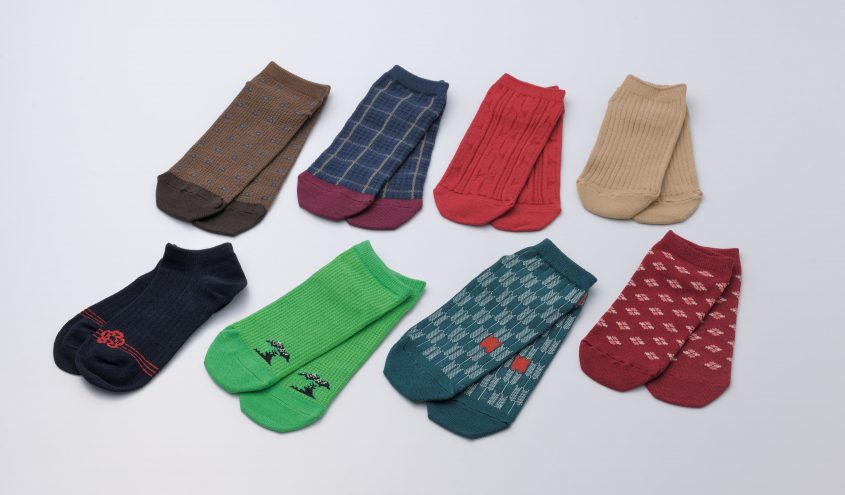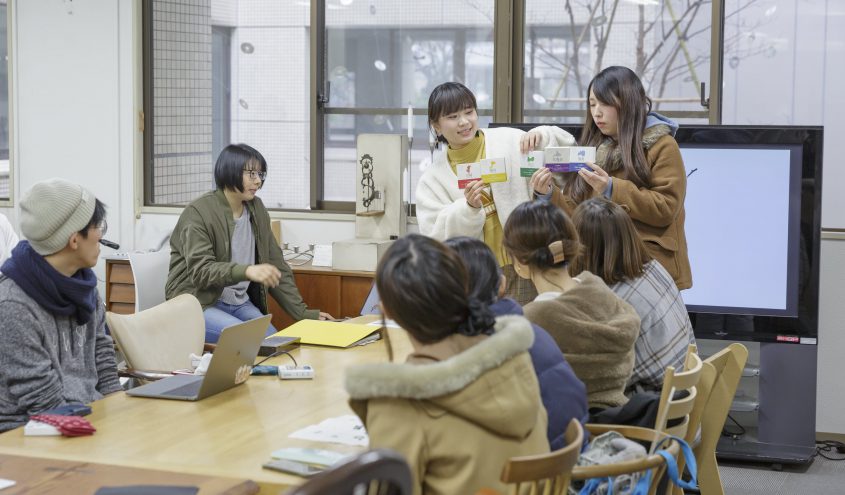 4. The Faculty of Engineering and Design, Hosei University x Nousaku Corporation x Nango Co., Ltd.

In the workshop with the Faculty of Engineering and Design, Hosei University , the students performed design and branding of products using materials and technologies of the collaborated companies, under the theme of "development of products and design by growing industrial seeds".

The collaborated companies this time were Nousaku Corporation, a manufacturer of casting housewares made of brass and tin, and Nango Co., Ltd. who manufactures interior and exterior goods centered on wrought iron and wrought aluminum products.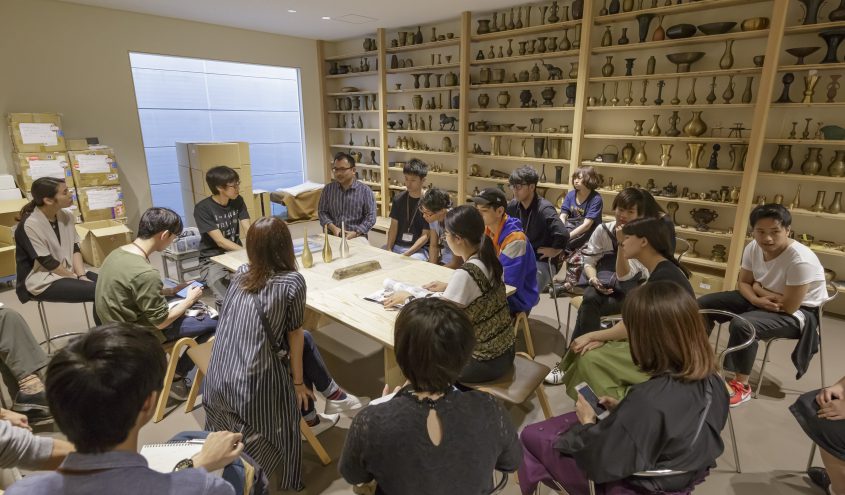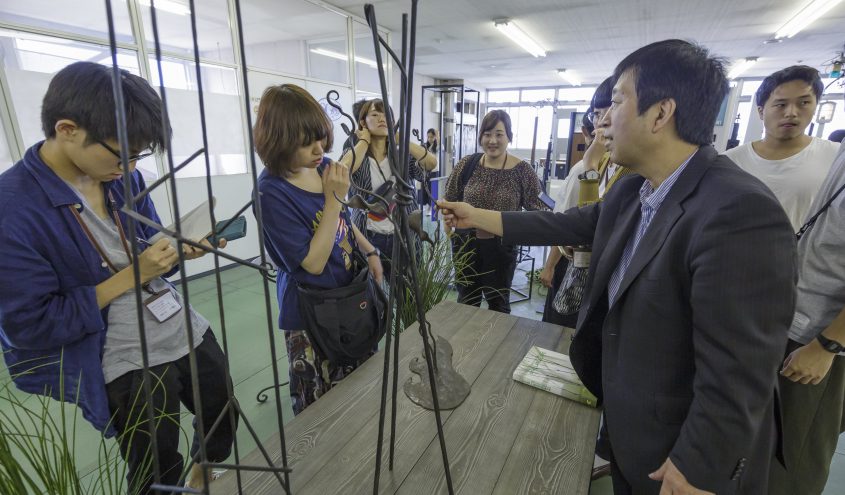 The students visited the collaborated companies and other manufacturers across Toyama and then created product design and branding proposals.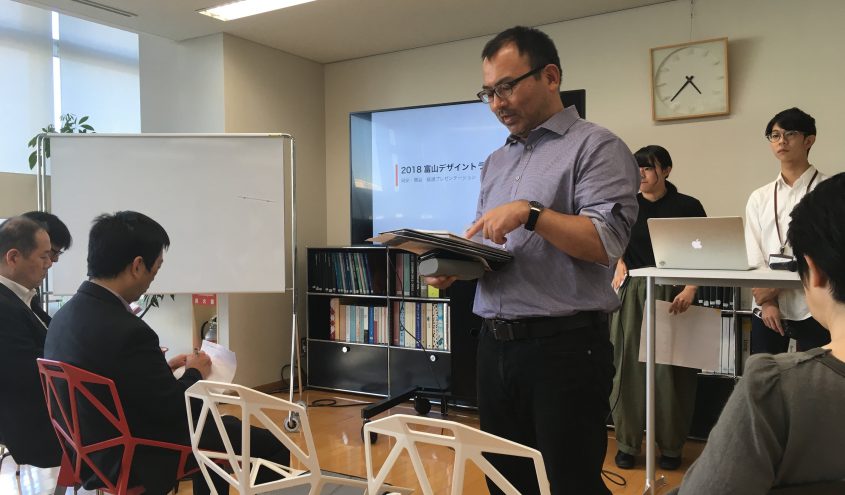 Then they created 3D data based on the proposals brushed up and made prototypes at the collaborated companies.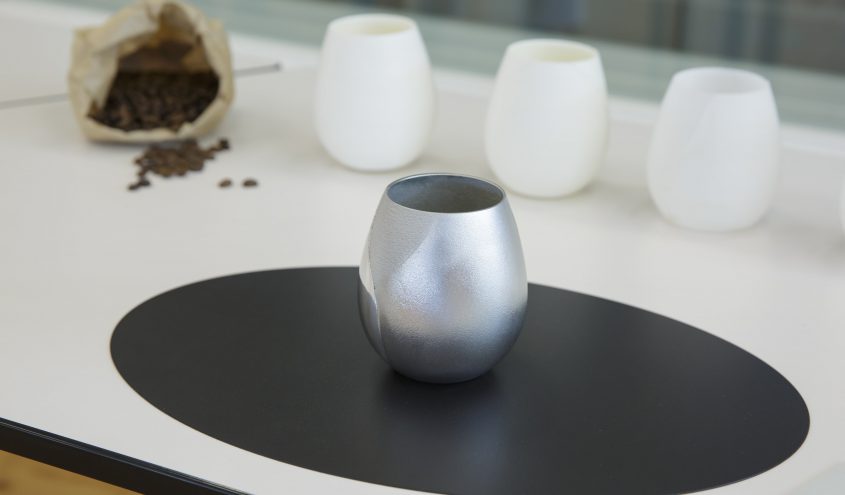 They designed the products as well as the brand name and logo, and also created leaflets supposed to be distributed at market and shops.

5.Presentation of results in Tokyo

The presentation of results in 2018 was held at Yahoo Japan Corporation's open collaboration space, "LODGE", located in Kioi-cho, Tokyo.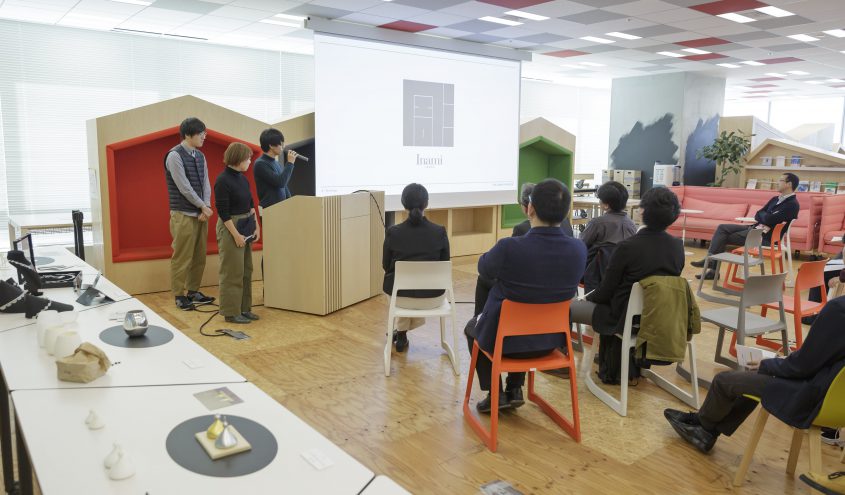 At the meeting, Toyama Design Center explained the details of the program and representatives of Kyoto Institute of Technology and Hosei University provided a final presentation on the results of their efforts. The prototypes made by students of these universities as well as those made by Kanazawa College of Art and University of Toyama were exhibited at the venue.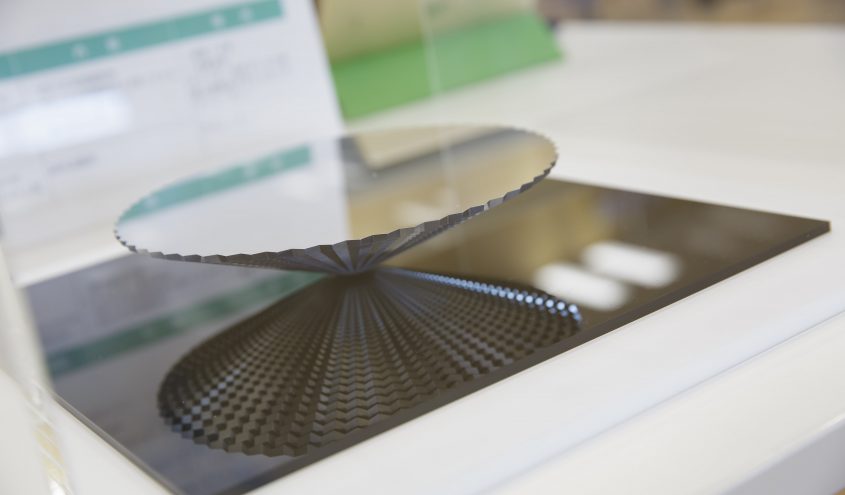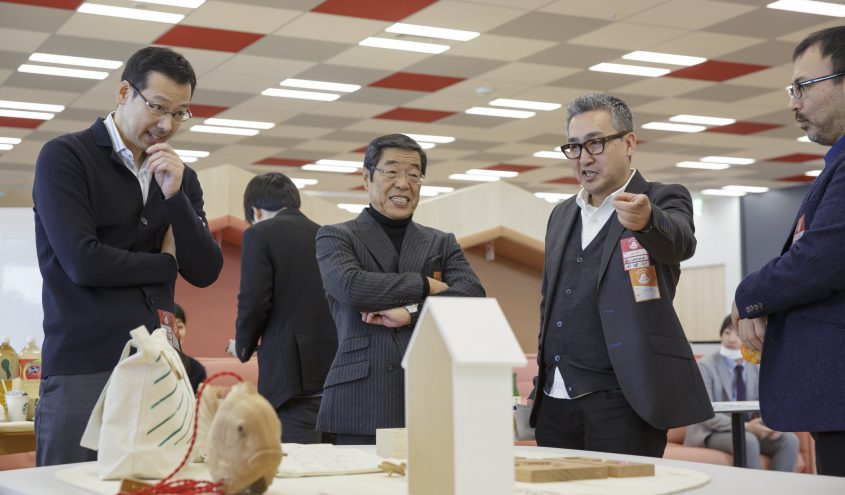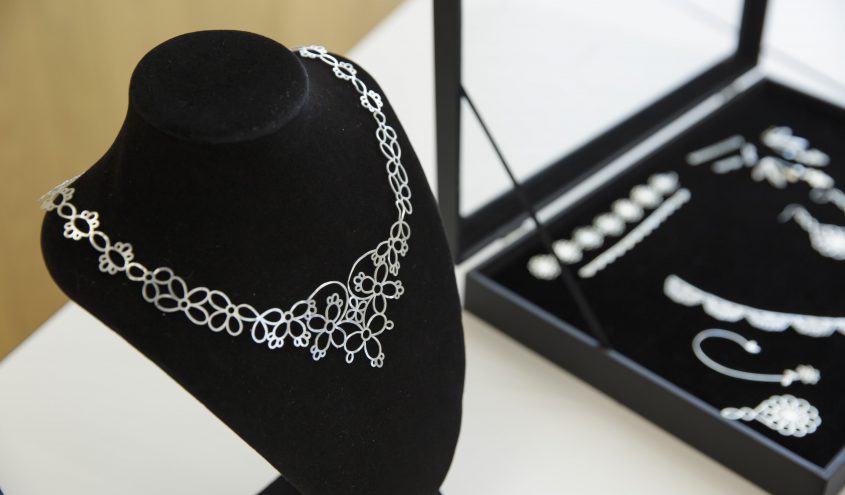 On the latter part of the meeting, a round-table talk was conducted among lecturers and audience, where the feedback from the students on their efforts were given and also comments and feedback were given from the members of collaborated companies and organizations and the teachers of each university.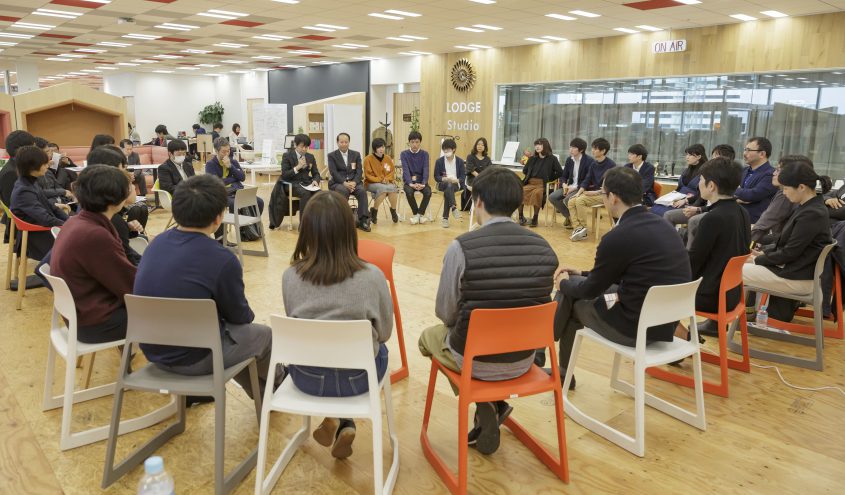 6. Booklet creation

In 2018, we created a booklet of 16 pages describing the efforts made in this program this year to be distributed to concerned parties and those who are interested in this program.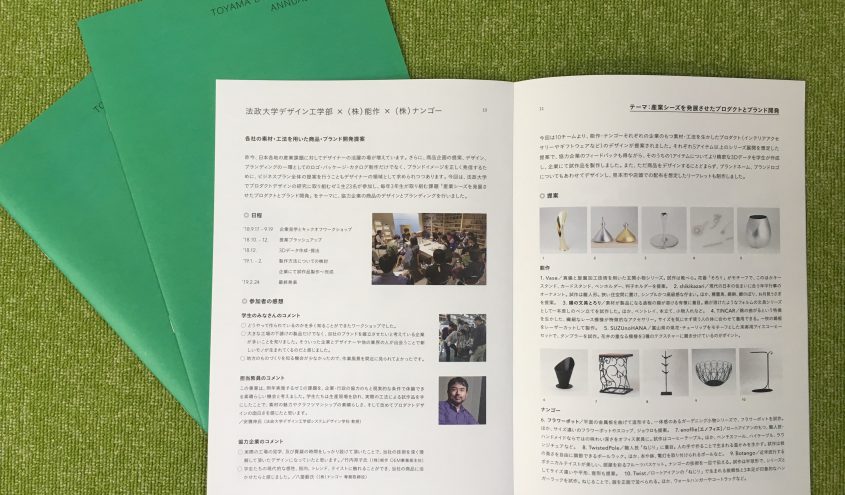 From the questionnaire
The following are excerpts of voices from students, teachers, and employees of the companies participated in this program.


・Although I have many chances to visit exhibitions, events, and companies in Tokyo, I have had less chance to know about manufacturing in local regions, so it was good I was able to know about manufacturing at site by closely watching actual work scenes.

・It was impressive to me to experience simulation works following steps of data creation, tentative prototyping, and actual prototyping.

・It was impressive that, in Toyama, various efforts have been taken to boost manufacturing by the entire region. I liked that there appears a cooperative relationship between people involved in manufacturing and the region in, for example, the equipment of Toyama Design Center and the efforts of Nousaku Corporation to activate the region. I was filled with expectation how it would be developed by seeing their consciousness to involve people over generations and regions, including this workshop.

<Teachers>

・In future craftworks, cross-sectional diversification and innovation by fully utilizing IoT and AI on Internet will be required in certain way. In that sense, the collaborative class was a practical opportunity for the students to widen their view by experiencing new technologies and embodying a variety of ideas.

・I felt that this program was an excellent opportunity for students to experience assignments of seminar performed every year under practical conditions with the support of companies and government. I believe that the students felt the excellence of craftsmanship and rediscovered the interest of product design by visiting the site of manufacturing and making prototypes by actual crafting methods.

<Company insiders>

・We got a lot of helpful advice on new products and exhibition we've never come up with, so it was very beneficial time for us.

・It took time and efforts to manufacture a product based on the collaboration with other companies and universities, but I felt it produced a new commodity value by coordinating students' ideas and companies' awareness on product development.